The past, present and future of Joe Gibbs Racing have taken over the 2021 NASCAR Xfinity Series season.
While their full-time Xfinity Series drivers such as Daniel Hemric, Harrison Burton and Brandon Jones have solidified themselves as sure-fire playoff drivers, it has been the Kyle Busch and Ty Gibbs show this season.
Kyle Busch has been his usual dominant self in the Xfinity Series, winning in all three races he has started this season. He won at Circuit of the Americas, Texas Motor Speedway and Nashville Superspeedway.
Busch has won 100 career races in the Xfinity Series, cementing himself as the greatest driver in the history of the series. He has been the past and present in the series, winning races in the series dating all the way back to 2004.
While Busch has continued to thrive in the Xfinity Series, it is Ty Gibbs who looks to continue JGR's reign of terror in the series for the future.
The 18-year old grandson of team owner Joe Gibbs has impressed in his first action in the Xfinity Series this season despite riding full-time in the ARCA Menards Series. Gibbs won his first-ever Xfinity race in the Daytona Road Course. He also won at Charlotte Motor Speedway during Memorial Day weekend.
Gibbs has ran in eight races in the No. 54 car for JGR this season. He has produced two wins and seven top-five finishes.
Gibbs will race in the No. 81 car for JGR at Road America on Saturday since Busch is running in the No. 54 car.
Despite the vehicle change, Gibbs continued to dazzle during Saturday morning's qualifying session, taking his first-career pole in the Xfinity Series.
Busch will start fifth behind teammate Daniel Hemric.
While Gibbs and Busch have dominated this season, Austin Cindric and A.J. Allmendinger thrive on road courses.
Cindric won last year's race in a rain-soaked Road America race on his way to the 2020 Xfinity Series championship. Cindric has displayed a strong title defense this season with four wins and 11 top-five finishes.
Allmendinger has found the majority of his NASCAR success on road courses, winning the 2014 Cup Series race at Watkins Glen International. Allmendinger won the last Xfinity Series race on a road course at Mid-Ohio on June 5.
Cindric and Allmendinger will start second and third respectively.
Coverage for the Henry 180 at Road America will begin at 2:30 p.m. EST. The stages will run through laps 10, 20 and 45. You can catch the race on NBC and the Motor Racing Network.
Starting lineup: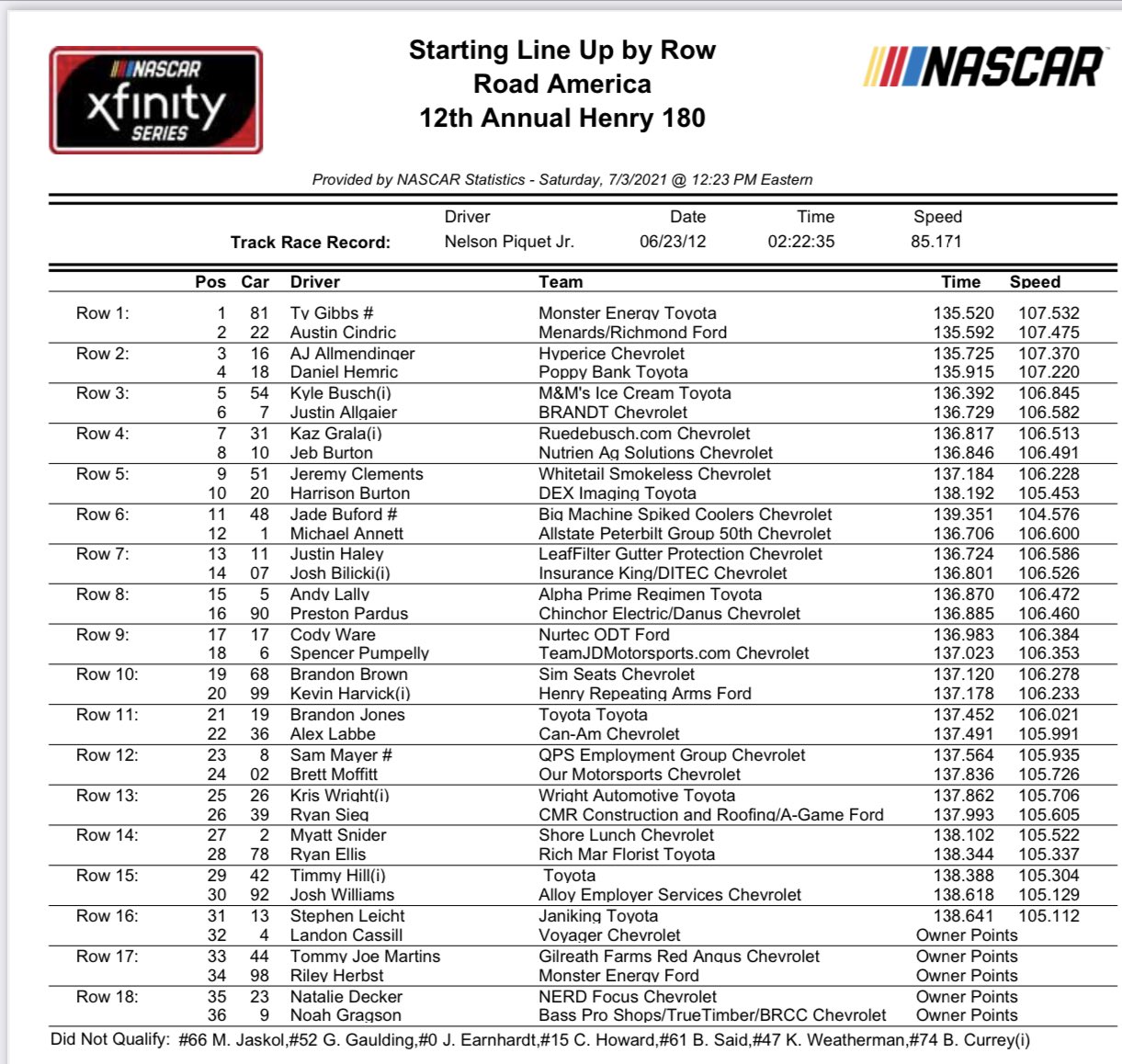 Pit stall assignments: